STUDY AND LIVE IN A
SPECTACULARY BEAUTIFUL REGION
The ultimate outdoor playground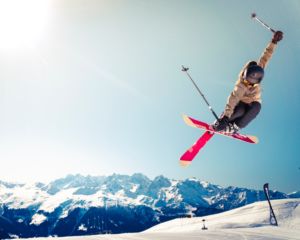 Studying in the Northern French Alps (Haute-Savoie) means choosing to live in one of the world's greatest places to ski, hike, trail run, paraglide, and do whatever other outdoor sport you can imagine. High mountains and beautiful alpine lakes serve as the backdrop for a wide variety of leisure activities.
Live and study 30 minutes from the closest ski resorts and just minutes from one of the most beautiful alpine lakes you will ever see to enjoy a variety of water sports. Choosing to pursue your studies in Annecy means learning about the outdoor sports industry as well as experiencing and enjoying outdoor sports first hand. The city of Annecy also offers several cultural landmarks to explore within the walls of Old Town.
Take advantage of a whole host of activities (movies, music, theater, photography, etc.) and special events (concerts, debates, lectures, etc.) that take place on campus.

Annecy: a terrific location for outdoor sports
enthusiasts
Several international events take place in Annecy and the surrounding area. These include stages of the Tour de France, the Ultra-Trail du Mont-Blanc, the MaXi-Race, and the High Five Festival to name just a few. While many of Europe's competitive ski and snowboard events take place here, so do other sporting competitions such as track and field, mountain biking, golf… the region offers countless opportunities to take full advantage of the great outdoors!
A small, warm, and welcoming campus
IUT Annecy Technical Institute figures among one of the seven Université Savoie Mont Blanc (USMB) colleges. Established in 1973, IUT Annecy Technical Institute educates 2800 of the 15,000 overall students studying at USMB. For more than 45 years, IUT Annecy Technical Institute has offered students the chance, through its programs and many majors, to gain the knowledge they need to succeed, to learn to adapt and fit in to any situation, as well as to develop their ability to work as a team.
Services on campus
Restaurants, university cafeterias, and student dormitories run by the student services department,
University libraries run by the Université de Savoie Documentation Service (SCD): more than 125 000 books, 650 subscriptions to periodicals, and documents available on the web or via CDRom,
Preventive health services and counseling services,
Free access to computer rooms.